On-site Radio System, Wide Area Radio Network or Mobile Phone?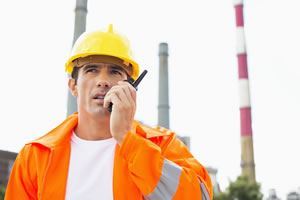 If you've not worked with a two way radio system before, you might have questions about what set up will work best for you. Some might even wonder if a mobile phone can do the same job as a two-way radio network.
Depending on the type of business you run, you may need an on-site radio system, or a wide area radio network covering a much greater range, or both. And in most cases, there are advantages to a radio system that mobile phones just don't have.
DCS 2 Way Radio advises customers on the best solution for their business, but here are a few features of radio systems versus mobile phones to get you thinking about what might suit you.
On-site radio systems
On-site radio systems are ideal for teams that need to communicate on a fixed site from a specific location. This might mean just one large building or it could be a complex such as a hospital, sports ground or building site.
An on-site system might have a base station for communicating with hand portable radios, but more often it just uses hand portable radios for communicating directly with each other.
Wide area radio networks
If your employees cover a much larger area, you will need a wide area radio network to set up good lines of radio communication. Taxi operators, bus and coach companies and council employees are just a few examples of people whose jobs might take them through a large site, town or even a city.
Wide area radio networks can cater for both vehicle mounted radios and hand portables. Base station repeaters relay radio messages over a wider area via transmission masts or high antennas.
DCS2 Way Radio operates networks over a large part of North West England, covering parts of Merseyside, Lancashire, Greater Manchester and Cheshire.
Why use two way radios at all? Wouldn't a mobile phone do the job just as well?
There's no doubt that mobile phones are useful, but they don't always offer the most efficient solution for businesses.
Two way radios provide instant connection. No dialling and waiting for an answer from a mobile phone. Just press a button on a two way radio and talk. This might be crucial in an emergency and has obvious implications for security and safety.
Talk to more than one person at a time on a two way radio.
Faster connection via radio enables immediate decision-making, which can improve the efficiency of your operations.
Radios tend to be more rugged than mobile phones – in some environments such as building sites or security, you need equipment that can stand up to a few knocks!
No monthly call limits or unexpected billing for exceeding your call time with a radio network. Know what your costs are up-front.
Remote signal strength for digital two-way radios are excellent. Mobile phones often lose their signal and can leave you stranded. We can all tell a story of having to wander around a building or walk some distance outside to pick up a mobile phone signal. That's just not an option for many industries, where reliability and instant communication is crucial.
Other useful features of hand portable radios
Hand portable radios often have a range of useful features, some of which they share with mobile phones, but several which are unique to radio.
Caller identification to radios with a display
Individual calls can be made to other radios
A panic button, which sends the radio's ID to a control room
Some radios are submersible - avoid large repair bills on wet mobile phones!
Many radios have an encryption feature which protects radio users against eavesdropper or scanners
Another common feature is background noise rejection for clearer audio.
There are many radio set up options we can advise you about and consultations are free, so get in touch with the experts at DCS 2 Way Radio today. Our long and short term radio hire packages are second to none.
Call us on 0800 294 7766 to chat about your needs or arrange a free consultation.
Released On 23rd Jul 2014
---