What is a Radio Repeater?
Not sure if you need a repeater? Contact our experts on 0800 294 7766 for free advice about getting the best signal on your two way radio system.
In general, radio waves travel in straight lines. They can go around and through things but this can drastically affect the strength and clarity of the signal. This causes problems when you're operating a radio system in a built-up, hilly or mountainous area. Sometimes, even on flatter terrain, the sheer distance between the transmitting radio and the receiving radio weakens the signal to an unacceptable quality, or the signal may be lost altogether.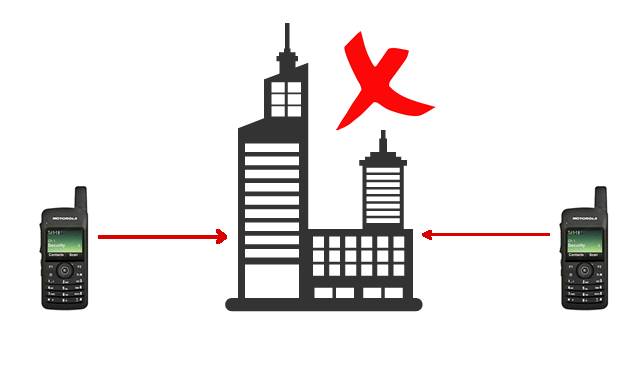 So how do two way radio systems work over greater distances, or when there isn't a clear line of sight between the operators? Radio repeaters are the solution.
How does a radio repeater work
A radio repeater simultaneously receives a radio signal and re-transmits it at a higher power so it can cover greater distances. This enables communication between radio users where obstructions or distance are a problem.
Repeater stations usually have their antennas mounted high up on top of a tall building or hill which ideally is central to your area that you are looking to cover, so their range is much greater. The boosted signal from a repeater can also improve the clarity of the transmission.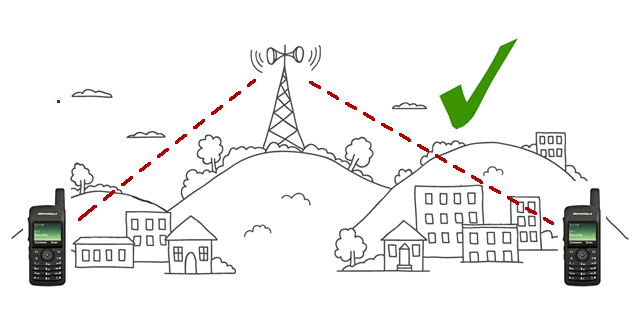 Repeaters receive radio waves on one frequency, called the "input" frequency, and then re-transmit the information on its "output" frequency. Therefore if you use two way radios with a radio repeater service, they will be programmed to transmit on the repeater's input frequency and receive on its output frequency. Our experts can help you with that.
Radio repeater systems are widely used by commercial businesses that operate over large or built-up areas, emergency services, public transport and amateur radio enthusiasts. They are also used on large sites such as a warehouse or hotel as this type of building can be difficult to cover due to its structure.
Motorola's latest generation of digital repeaters uses the very latest technology and offer outstanding performance. Both the DR3000 and the SLR5500 are available in VHF or UHF.
DCS 2 Way Radio offers a maintenance service for customers who have repeaters within their radio system either on a business hours or 24/7 basis. An engineer will visit your site and replace the faulty repeater with a loan unit to ensure your system is back up and running as quickly as possible. This is invaluable, as without the repeater the radio system is ineffective and down-time with any form of communication costs businesses money.
Contact us for more information and expert advice about repeaters for mobile or portable radios.
Released On 7th Oct 2015
---