What are the best two way radios for your business?
Our new interactive tool helps you find a radio solution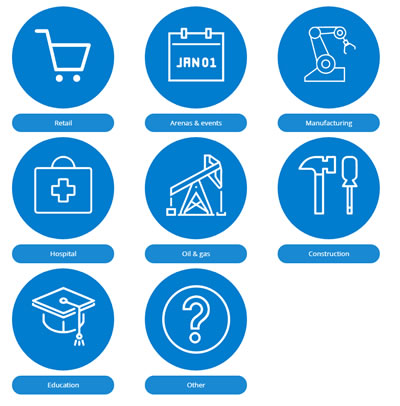 You know that a two way radio system will help your business function more efficiently; there's no question they can help employees communicate more easily and promote their safety when working alone.
The dilemma is, which two way radio should you choose? With an astounding range of brands and models available, all with slightly different features, which radio system is best for your site?
The team at DCS 2 Way Radio understands how confusing it can be. So to help guide customers through the process, and start them thinking about what they actually need, we've recently launched a free, interactive tool on our website to steer them through the maze of options.
With just a few simple questions, you can select the options that best describe your business needs. In two minutes or less you'll have some suggestions for two way radios that could be a good match, from leading brands such as Motorola, Hytera, Vertex and Icom.
Try our interactive questionnaire.
How do we choose the best two way radio for you?
Simply select options from a few questions that narrow down the radio system which could work best for you.
What industry are you in?
This question helps us to understand the kind of environment you work in, i.e. indoors or outside, in wet conditions, an explosive environment, or areas where there could be signal black spots. Choose from options such as retail, manufacturing, hospitals, construction, education, arenas and events, oil and gas etc.
How many employees will be using radios?
To give us an idea of the scale of the radio system you need on site.
How many departments will be using radios?
Your two way radio system can be configured to allow for the communication needs of each department.
Which features are most important to you?
Here you can select important radio features such as Caller ID, GPS/Tracking, Lone Worker, Emergency/Panic button, a budget radio, a lightweight radio etc.
How best describes your premises?
The larger your premises, the greater coverage your radios need to provide. Very large sites might need a repeater base station to boost the signal from your radios.
Depending on your industry, we might ask you to select an option that best describes the size of your premises. For example, retailers could be a single store, a large department store or a shopping centre.
The results
After selecting your options, our questionnaire instantly suggests some two way radios that might suit your needs. When you submit these results to us, once of our friendly technical advisers will quickly contact you to find out more and give you a firm recommendation.
There's no hard sell and no obligation.
We hope you find this tool useful. Try it out now or give us a call to speak with an expert.
Call us on 0800 294 7766.

Released On 14th Mar 2018
---