If you need to purchase or hire two way radios for use on a film, theatre or broadcast set, DCS 2 Way Radio can help you find the right solution, including a free consultation and help with licence applications, if required.
Call us on 0800 294 7766 to chat about your needs or arrange a free consultation.
A guide to two way radios in film, theatre & TV productions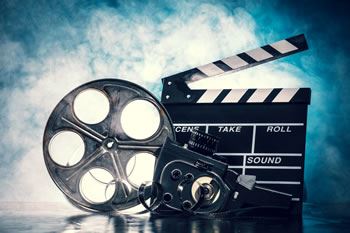 Film and television production sets are bustling, busy environments with a great many tasks going on simultaneously. Communication is essential to keep everything running like clockwork. Two way radios allow the entire crew to communicate quickly and clearly, getting the job done more efficiently.
A two way radio system needs to fulfil a wide range of requirements depending on the tasks each member of crew has and the environment they are working in.
Indoors and Outdoors
Film productions can require both indoor and outdoor locations, so two way radios should be weather-proof, with a good IP rating, and capable of working over medium-to-long distances. They should also be fairly robust and resistant to drops and bumps.
Noise
With so much happening around the set, it's important that the user can communicate clearly and hear what is being said to them, so noise cancellation software is a useful feature. Silence is imperative during actual filming, so radios need an option to silence incoming calls.
Hands free
Depending on the crew member's role, a headset or radio earpiece can be useful to allow hands-free communication. Some users may prefer a surveillance mic and earpiece as it helps them hear more clearly. Others prefer a speaker mic located close to their face or clipped to their shoulder.
Battery life
To cope with long days of production two way radios should have a decent battery life. At best, it needs to last for an entire day of filming. Alternatively, it's useful to have back-up batteries on hand to switch when needed.
Maintenance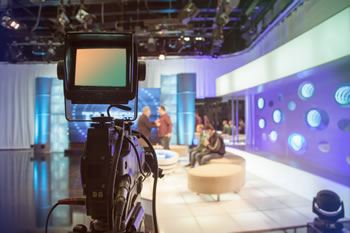 Make sure your radio system doesn't let you down at critical times; DCS 2 Way Radio offers maintenance, repair and programming to keep your radio system working effectively.
VOX v PTT
VOX (Voice Operated Exchange/Switch) is a function where the device is automatically triggered on voice recognition. This can have its advantages, in that the device becomes completely hands free, however it does not give the user freedom to choose which conversations are broadcast.
PTT literally means push to talk. While it means that a device cannot be truly hands free, even if using a headset or mic clip, it does give the user the flexibility to choose which conversations are being broadcast. This form of communication is much more common in a film, theatre or broadcast production setting.
Radio frequency
Your choice of radio frequency (VHF or UHF) may be decided by the environment the production's working in.
UHF (Ultra High Frequency) uses short waves and is ideal for penetrating buildings or densely wooded or hilly areas. They are great for indoor use, but can also be used outdoors, and the use of an antenna will increase their power.
VHF (Very High Frequency) uses longer waves and are better suited to environments where there less obstructions to a clear signal. They are ideal for use on water, in open fields or in landscaped areas with few obstructions.
If you hire a two way radio communication system, talk to the hiring company – you may find that they'll help you select the most appropriate frequency. If not, you will need to think about what frequency suits the requirements of your film set or outdoor location.
Cost-effectiveness
Two way radios are an investment, especially if you buy instead of hire, but the cost can easily be offset against time and efficiency savings.
If the radios are to be used on a project-by-project basis, radio hire may be a more cost-effective option and allows the production company to rent the most up to date equipment.
Call us on 0800 294 7766 to chat about your needs or arrange a free consultation.
Released On 24th Jan 2017
---