Motorola SL1600 Series – Hire it at DCS 2 Way Radio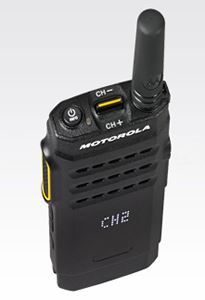 The innovative Motorola SL1600 Series is the latest radio technology to join us here at DCS 2 Way Radio. From the outset, this looked like it was going to be something special so, as we're always keen to invest in the very latest radios for our customers, we recently purchased 200 units, mainly for our hire fleet.
Initial feedback from customers and from our own handling already shows signs that Motorola has a real winner on their hands.
Ultra-slim...
The size of this radio has made a particularly good impression. At just 22mm thick, Motorola always intended the SL1600 to be a "go-anywhere" work mate, as portable as any smartphone, and in this respect it doesn't disappoint. A similar size to an iPhone 5, the SL 1600 is slim enough to sit discreetly in a pocket, unlike most radios at this price-point.
...but very strong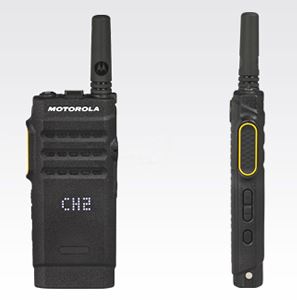 The radio's size belies its strength, however. Motorola are keen to point out the ruggedness of the SL1600. Its IP54 rating for dust and water resistance mean it can be used even in harsh conditions, and Motorola claim the radio will tolerate many drops and tumbles. Whilst we haven't quite dared to put that claim to the test ourselves, the SL1600 has survived Motorola's gruelling Accelerated Life Test (a simulated 5 years' hard labour) and we have no reason to doubt that it's built to last.
Great features
The display is also a feature that's had plenty of great feedback from customers. A ground-breaking shatterproof screen has been installed behind the radio case, something that's never been done before. A hidden grid of LEDs illuminates the Active View Display, which shuts off when not in use to conserve battery life. Day or night, information is displayed in a crisp view.
Talking of battery life, this is easily monitored by pressing the power button quickly, showing you whether the battery charge is low, medium or high.
Other features that make this two way radio a winner are:
Side volume control
Dedicated power button
Prominent push-to-talk button
Micro USB connectivity for easy charging and programming
Analogue and digital capability
"Fast toggle" - allowing users to quickly scroll through 10 channels at a time
We stay one step ahead of the competition by providing our radio hire customers with modern, high tier technology. From the reactions we've seen so far, we're confident this radio is going to be the biggest seller in Motorola's range.
Hire the Motorola SL1600 from DCS 2 Way Radio
If you're interested in hiring this or any other two way radio, please contact us on 0800 294 7766 or read more information about hiring two way radios from us.
Watch Motorola's video for the SL1600 Series
Related pages
Released On 2nd Dec 2014
---