Two Way Radio Systems for Schools & Colleges
Schools, colleges, universities and other educational institutes are increasingly using two way radio systems for rapid communication on health and safety as well as security issues. Some common uses for radios in an educational situation:
Playground supervision
Grounds and building maintenance
Car park monitoring
Fire drills
School security
Communication between staff at school events, e.g. sports days, school plays, open days
classroom to office communication
1

The Customer

South Cheshire College serves the Sixth Form and further education needs of students in Crewe and Nantwich, occupying a campus about one and a half miles from Crewe town centre. The college's outstanding performance attracts students from the whole of South and East Cheshire, as well as further afield such as Stoke-on-Trent and Shropshire.

Its enviable facilities include a huge sports arena, theatre, state-of-the-art workshops, three-story library, training kitchens, hair and beauty salons, recording studios, restaurants and café outlets.

The college finds two way radios extremely useful to keep in touch with various departments around the campus, including maintenance and security.
2

The Problem

The college was using analogue technology which consisted of hand portables working via a repeater. This provided one radio channel that was shared by maintenance, cleaners and security. The analogue radio system did not provide coverage throughout the site as basements and plant areas lacked radio coverage.
3

The Solution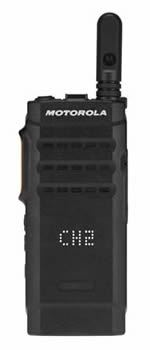 DCS 2 Way Radio supplied the college with a Motorola DR3000 digital repeater and Motorola SL1600 digital hand portables. Two of the main benefits provided by upgrading to digital technology for South Cheshire College were improved coverage throughout the site as well as the repeater providing two channels, as opposed to analogue only providing one.
This allowed the maintenance dept. to have their own channel and the cleaners and security shared the second channel. The coverage was drastically improved as now the radio system provides saturated coverage throughout the whole site which includes the basements and plant areas.
The radio users had the added benefit of using the Motorola SL1600 hand portables as they are extremely light weight as well as being smaller in size compared to the old analogue radios. They are in fact a similar size to an iPhone which most of us are used to carrying round on a daily basis.
4

The Result

The feedback from users at South Cheshire College has been really positive. Alison Hawkins, the College's Health, Safety and Sustainability Officer summed up the main benefits of the new radio system.
The radios are very easy to use with clear controls
The radios are very light, in fact so light we sometimes think we have forgotten to pick it up!
The aerial is short, so it doesn't get in the way or snap off.
We received clear messages that can be picked up anywhere in the college.
The battery life is very good on the radios, lasting all day and more.
The radio system has proved good value for money. With help from DCS 2 Way Radio, we got more for our limited budget.
We offer schools, colleges and universities up-to-date technology, impartial, expert advice and cost-effective radio hire packages. We'll take care of any Ofcom licensing requirements and even program your radios to the correct frequency for free.
Please call us on 0800 294 7766 or submit an enquiry.