Protect Your Staff with Hytera Body Worn Cameras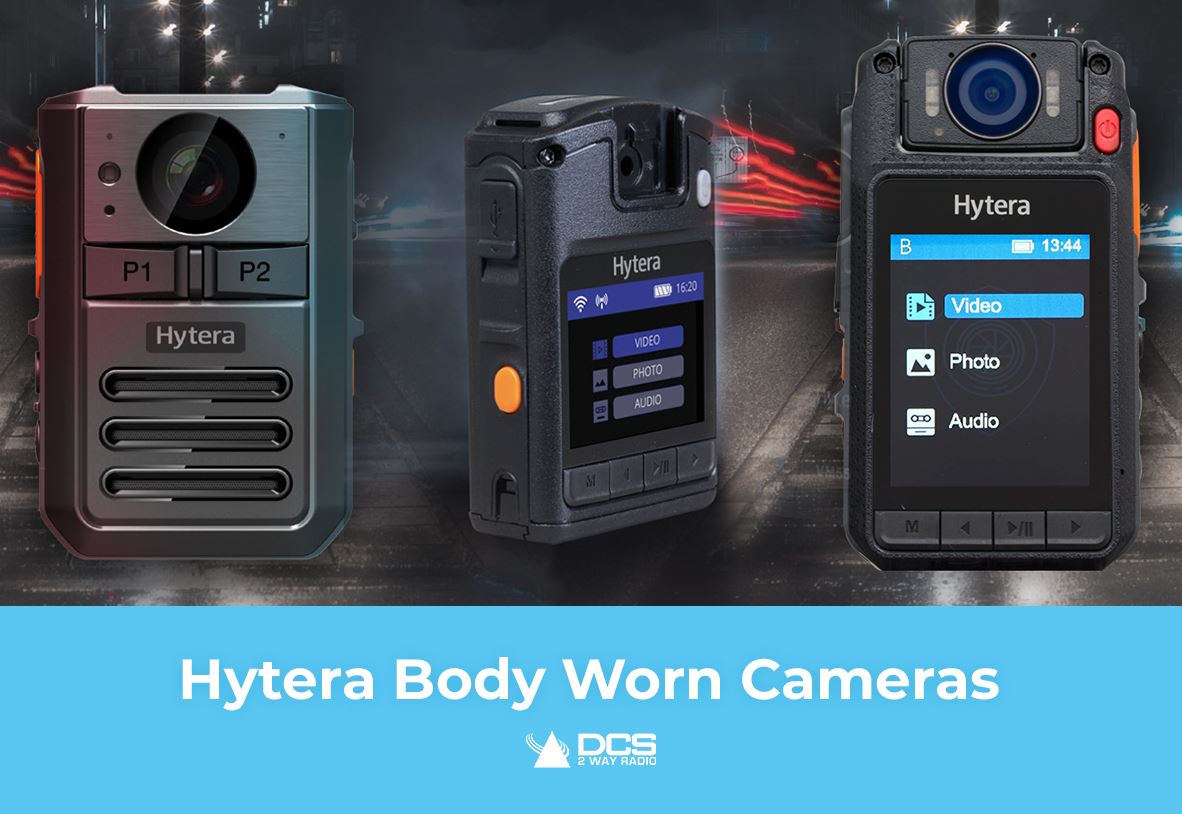 Lightweight, robust and portable, Hytera body worn cameras are the newest advancement in bodycam technology. Body worn cameras are most often used by security and law enforcement personnel, bodyguards and frontline workers to record and store high-definition video which can be used as evidence. This equipment is crucial when it comes to the protection of workers including the police, firefighters, ambulance services, prison staff, railway workers, healthcare workers, private security officers and more.
Choosing the correct bodycam solution for your business needs is imperative for getting the most out of the equipment, but luckily Hytera offer a product to meet all budgets and requirements.
Hytera VM550
The VM550 body worn camera from Hytera provides a range of useful features from integrated Bluetooth and WiFi to an IP67 rating. Available in various models including 32GB, 64GB and 128GB, the Hytera VM550 bodycam is a remote video microphone which can seamlessly integrate with your existing Hytera two way radio equipment.
This body worn camera benefits from impressive 1080p HD video capture and over 7 hours of continuous battery life, making it a fantastic option for lower budgets.
Hytera VM550D
With all the effective features of the VM550 and more, this bodycam has no problem capturing footage in poor lighting conditions with a range of up to 10 meters thanks to it's Night Vision capabilities. This body worn camera also has a built-in backup battery, ideal for the continuous protection of your staff in any situation.
Hytera VM685
One of the most notable features of this body worn camera is its 180 degree rotatable lens unit and 140 degree wide-angle camera with a 16 megapixel image sensor. The Hytera VM685 can be paired with a Hytera two way radio for effective communication when you need it most.

This bodycam boasts plenty of advanced features including password protection, H.264 encoding and six infrared LED, ideal for workers in the police force and other potentially threatening job roles.
If you'd like to learn more about the advanced body worn cameras we offer at DCS 2 Way Radios, please don't hesitate to contact us. As well as supplying bodycams, we also specialise in two way radio sales, two way radio hire, onsite radio systems and more.

Ends.

Released On 12th Sep 2019
---